ReadingWhileMommying
The Book Beat - January 17, 2020
Hello, book friends! I didn't get as much time to read this week as I would have liked, but I'm still keeping up with my A Short Story a Day goal. I've read short stories over the years, but I'm truly nerding out over this project (and it helps me feel like I'm sticking to at least one of my resolutions!). The shorter form really packs a narrative punch and I'm especially enjoying the ones with surprise endings (ahem, "Lamb to the Slaughter" by Roald Dahl).
My faves of this past week were "The Swimmer," by John Cheever (thanks, Patty!) and "The Knowers" by Helen Phillips (possibly my favorite so far). Follow me on Insta @ashortstoryaday to read my reviews and let me know what you think. Also, I need recs for Feb! Reply here or there and give me names of some you love.
Now, onto some book news of the week...
Seconds on the Chianti and Fava Beans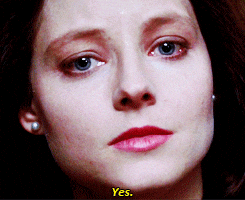 I loved both the book and movie Silence of the Lambs (a rare movie that's as good as the book) so I was excited to read that CBS is doing a sequel of sorts focused on the continued work of Special Agent Clarice Starling. Sounds intriguing. Now I just need more hours in a day to keep up with all the great books and TV shows vying for my attention.
https://www.syfy.com/syfywire/tca-2020-cbs-orders-silence-of-the-lambs-spinoff-clarice?utm_source=Sailthru&utm_medium=email&utm_campaign=Today%20In%20Books&utm_term=BookRiot_TodayInBooks_DormantSuppress
#silenceofthelambs #claricestarling #cbs #booktomovie


Noname's Book Club
Female rapper and poet Noname has her own book club where she highlights authors of color. As part of my A Short Story a Day challenge is also trying to read more stories by a diverse group of authors. I really need to do that for books, too. I'm definitely going to check out some of her selections. Inspired by her mother, Desiree Sanders, the first black woman in Chicago to own a bookstore, Noname started the club after a random encounter with a fan, but it seems to be doing really well if the number of Twitter and Insta followers are any indication. She also promoted (and made up!) her own "register for a library card" day on Jan. 11. Hear all her here...
https://bookriot.com/2019/08/07/noname-launches-a-book-club/
#noname #nonamebookclub #librarycard #authorsofcolor


Book Recs from Popular Authors
Two of my favorite authors, Jasmine Guillory and Tea Obrecht, shared some of their favorite recent books on the Today Show. All sound great and I added them to my "Want to Read" Goodreads list, so I hope days somehow get more than 24 hours and I can fit them all in. I also love seeing authors talk/read in person, so I'm glad this is a video and not just an article.
https://www.today.com/shop/top-8-books-2019-according-bestselling-authors-t170796?fbclid=IwAR3imF80wy4kBCAddP-Rb4t-9CyrrE0NDwY3kCZ8hTgRf8TXC_Kt9TsIU2Y
https://www.cnn.com/2020/01/14/us/pittsburgh-library-theft-trnd/index.html?utm_source=Sailthru&utm_medium=email&utm_campaign=Today%20in%20Books&utm_term=BookRiot_TodayInBooks_DormantSuppress
#theproposal #jasmineguillory #teaobreht #inland #thetodayshow #bookrecommendations
Little Fires Everywhere Trailer
The trailer for the Hulu limited-series of this intense book (highly recommend) looks amazing. Our Patron Saint of Books, Reese Witherspoon, seems to have done it again. Very much looking forward to checking this one out!
"You didn't make good choices. You had good choices." Wow! I can't wait to see Reese and Kerry play off each other.
#littlefireseverywhere #celesteng #hulu #reesewitherspoon #reesesbookclub #kerrywashington
Cover of the Week:
Summer by Karl Ove Knaussgaard
Like The Dutch House, Karl One Knaussgaard's final book in his seasonal quartet uses a painting on the cover. An original work by German painter, Anselm Kiefer, it's striking, interesting, and perfectly encapsulates the intrigue of Knaussgard's books. Actually, Kiefer's illustrations are scattered throughout the book and it's interesting to see where certain images are placed.
I've read the first three and haven't gotten to this one yet. Starting with Fall, Knaussgaard uses a series of vignettes, written to his unborn (as of the first book) daughter, to muse about everything from his wife's mental illness to water, clothes, and toilets. Put together, the books are an up-close view of his life, in all its joys and tragedies. I look forward to reading this one.
#summer #karloveknaussgaard #coveroftheweek #readingwhilemommying #seasonalquartet